My Approach to Therapy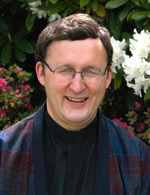 I have been practicing counseling professionally since 1989. I work with couples, children and adolescents (ages 5-18), and adults who are experiencing depression and anxiety as a result of stresses in their lives brought on by relationship difficulties, family conflict, work/career issues, school-related problems, unresolved issues from childhood or other trauma.
I also have special training in the integration of spirituality with emotional or relational healing, and I work comfortably with clients from a wide range of religious and spiritual backgrounds, including those for whom religion is not important.

I have training in both short-term therapy and longer-term treatment, but most of my clients work with me for 3-6 months and then come back for "tune-ups" as part of a continuing commitment to staying healthy.
My approach grows out of family systems theory, which views healing as a process involving many different dimensions of human experience, including the emotional, cognitive, social, familial, and spiritual. If appropriate, and only with your permission, I will include your friends, family members, clergy, medical doctor, or other professionals in your healing process as I prefer to work collaboratively and holistically whenever possible.
My Training and Professional Background
I received my undergraduate degree in psychology from the University of Washington in 1980 and completed my Masters of Divinity from Princeton Theological Seminary in 1984, where I received training in social work (in conjunction with Rutgers University) and pastoral counseling.

I continued my clinical training at the Presbyterian Counseling Service in Seattle, completing a two-year postgraduate training program in marriage and family therapy in 1986 and a Masters of Science in Marriage and Family Therapy from Seattle Pacific University in 1987. Additionally, I received three years of specialized training and supervision in child and adolescent therapy at Luther Child Center in Everett, Washington from 1987 to 1990.

I am a clinical member of the American Association for Marriage and Family Therapy. I am also licensed by the State of Washington as a Marriage and Family and Family Therapist (#LFOOOO1185) and am an ordained minister in the Episcopal Church. I am a qualified administrator of the Myers-Briggs Type Indicator and the Strong Interest Inventory.
Each year, I upgrade my clinical skills through continuing education offerings. I participate in a monthly clinical consultation group to receive input and accountability from my professional peers.