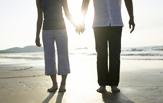 In todayís fast-paced, quickly changing world, itís nearly impossible to escape the pressures of daily life. Career demands, personal relationships, and family situations often contribute to depression, grief, stress, anxiety and other emotional hurdles.

I believe counseling with a competently trained professional can be a safe, affordable way to find healing, a deeper meaning from life, and practical solutions to lifeís problems.

As a professional counselor since 1989, I have helped adults, children, adolescents and couples in the Puget Sound area with a wide range of issues including:
Marital and couples issues
Parent/child conflicts
Personal struggles with anxiety, depression, doubt, failure or a lack of fulfillment from life
Separation, divorce, parenting, remarriage, and step-parenting
Coping with loss or grief
Career and job issues
Spiritual direction and renewal
Personal and relational problems associated with a physical illness, accident, or disability
Challenges created by ADD and other learning disabilities
I provide:
Individual counseling with adults, children, and adolescents
Marriage and couples counseling
Family counseling
Premarital and pre-engagement counseling
Educational and consulting services
See a complete list of services.
I have graduate degrees from Princeton Theological Seminary and Seattle Pacific University, and I am a Washington state-licensed marriage and family therapist. More about me.
My office is located near downtown Bellevue with easy access to major highways (405 and 520), and convenient parking. Both evening and daytime appointments are available. Please contact me to set up an initial appointment.
Bellewood Office Park
2105--112th Avenue NE., Suite 200
Bellevue, WA 98004
425-451-4749 (Office)
425-453-6187 (fax)